TULSA, OKLA. — Ray Reynolds had never voted before President Donald Trump stepped into the political arena.
The 59-year-old construction contractor from Martinsville, Virginia, said he was lucky enough to spend 45 minutes photographing the Republican president behind the scenes.
He's been sold on Trump ever since.
"In Martinsville, Virginia I've been attacked because I believe in Trump, and you've even got people in government who think you're racist because you support Trump," Reynolds said. "Trump is not racist. Trump supporters are not racist. We all are one."
Saturday's Tulsa campaign rally marked Reynold's 71st Trump event in 15 states. He's driven 62,000 miles and flown 35,000 to support the man he regards as his president.
"I got Trump in the blood as they say," he said.
Reynolds was among the thousands of ardent supporters who braved the COVID-19 pandemic to fill the streets of downtown Tulsa ahead of Trump's first campaign rally since March.
They wore Trump attire, waved flags and were full of adoration, optimism, praise and enthusiasm for the president. They showed up from across the country — with most saying they weren't concerned about their COVID-19 exposure risks.
"Trump is refreshing," said Jeff Brown, 56, of Portland, Oregon. "Imperfect. Well-spoken, saying the right things. That's how he got in there. He's got a lot of support."
Brown and his son spent the day wandering around downtown Tulsa, pushing a cart that had a 30-foot tower of flags for sale. Whenever he crossed paths with power lines, Brown would carefully lower the flags.
Like many Americans, he said his sales business got hammered when COVID-19 forced the closure of large swathes of the economy.
Like many attendees Saturday, Brown opted not to wear the recommended cloth face coverings.
He said his doctor advised against it because it could restrict his oxygen flow.
"The sun will kill everything," he said. "God put me here. God will take me out when it's time."
Gary Bullock, 60, of Poteau, Oklahoma, said he hoped to attend Trump's indoor rally at the BOK Center.
"He stands up for what we believe in," Bullock said. "The American Way. He doesn't take crap off anybody. Sometimes, I wish he would stay off Twitter a little bit, but I think he truly believes in America, keeps us safe."
Bullock, who grew up in a military family, said Trump supports Second Amendment rights, supports the armed forces, loves America and stood up to Russia and China.
Nothing will convince him not to vote for Trump in November.
"Joe Biden is creepy," Bullock said, of Trump's Democratic opponent.
Tisha Hinojos. 44, of Tulsa, said there are a lot of reasons she supports Trump.
"He made lots of promises, and he kept lots of promises," she said. "Everything he said he'd do has been fought through and through with Democrats, and I just think if people would let him do his job, he would be even more effective."
She said the economy has been far stronger than in the past. Unemployment was down before COVID struck.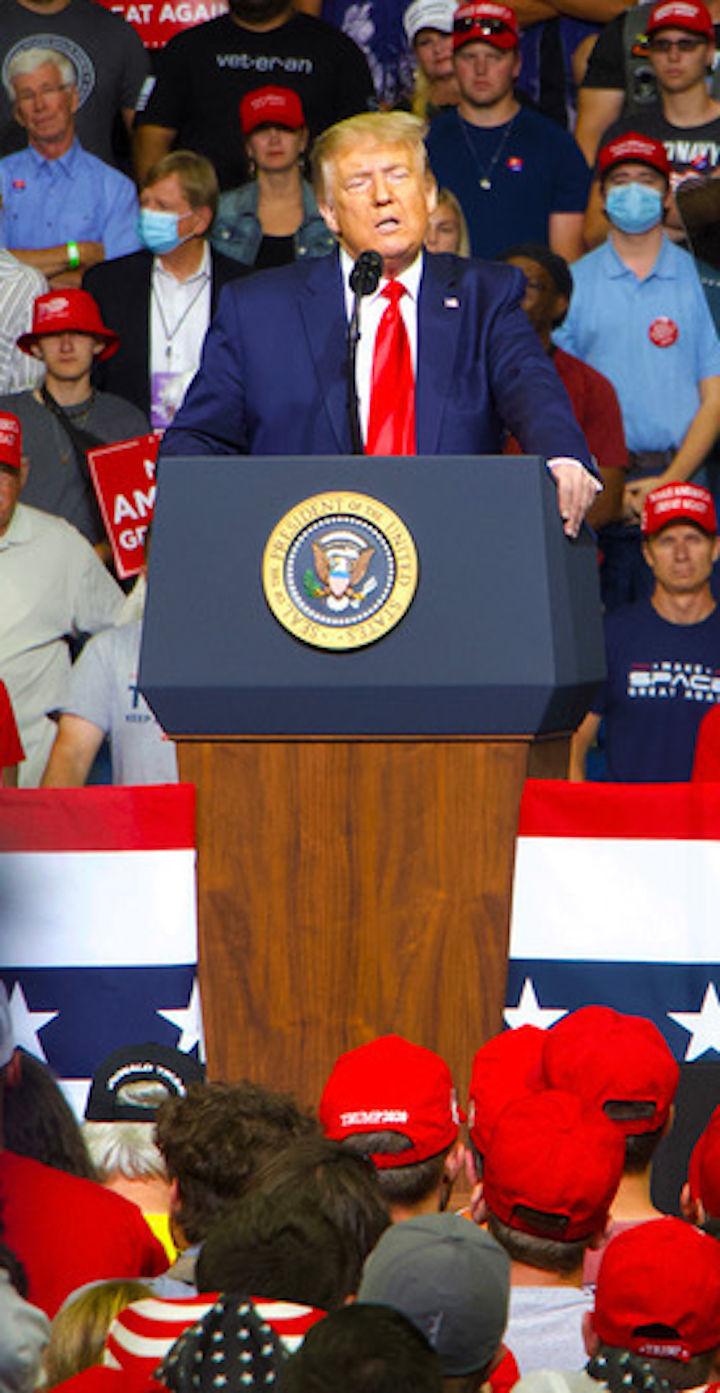 Hinojos and her husband decided to hang out outside the rally. She said they had no desire to go inside. Crowd size for the rally was smaller than expected.
"Our family doesn't even want us here," she said. "Everyone's so nervous. We promised we would come with our guns and protect ourself if we had to. So we're just standing out trying to show our support and hoping that everybody can stay peaceful. We don't want anything ugly in our beautiful town."
Just feet away, protesters screamed back and forth at each other. Protesters later held an impromptu march up and down a busy street as Trump supporters yelled "Blue Lives Matter" — a reference to police officers — at them.
Just down the road from the protesters, Tommy Zegan, 60, of Mexico, worked to sell raffle tickets to his 6-foot-3, stainless steel Trump statue that pays homage to the leader.
Half of the proceeds will help fund Trump's 2020 reelection campaign. The rest will go to disabled veterans.
The statute features Trump wearing sandals because he's supposed to be retired on the beach. Trump is wearing patriotic clothes, but sporting a suit and tie. Clutched in his right hand is a copy of the Constitution. In his left hand, Trump holds a magic wand — a veiled reference to comments President Barack Obama made about Trump's ability to create new jobs.
Zegan said he's already turned down a $1 million offer for the statute. He said it was supposed to be located near the main entrance but was moved due to a bomb scare.
It's one of two. He'll raffle one and donate the other to Trump in hopes that it will one day be displayed in Trump's future presidential library.
"I'm an entrepreneur," he said. "I didn't like him before when he was on TV. I didn't care for him, but I think as our president, he's probably one of the best presidents we've had."
Just down the road, Angela Potts, 44, of Paris, Arkansas, stood on a quiet street corner, peddling $5 Trump pins to supporters driving by.
Saturday marked her first campaign rally.
She was wearing a "Trump 2020" face mask, but said she didn't know if she'd vote for him in November.
Potts said she's never voted and isn't sure she'll start now.
"With as many people that complain about him being president, there was a lot that voted him in," Potts said. "Is he doing a bad job? I don't know. I don't do politics at all."
Stecklein covers the Oklahoma Statehouse for CNHI's newspapers and websites. Reach her at jstecklein@cnhi.com.